Images: logo_wiki at Observatori
9th Festival Internacional de Investigación Artística de Valencia
After The Net, 5 – 29 June 2008, Valencia, Spain.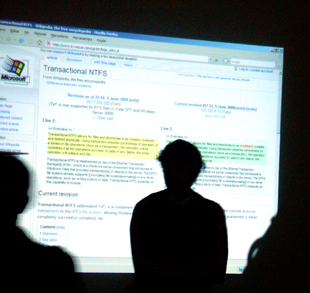 logo_wiki featured in Futuresonic Manchester.

It went to Valencia for After the Net as part of Observatori.

logo_wiki was in Athens for Mirfestival 12-20.September.08.

It was in Plymouth for After the Net(2).

A short essay: Surveillance and the art of software maintenance.

A short Film about logo_wiki.

Press:

project.arnolfini